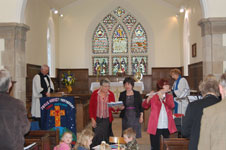 Monthly Service Arrangements.
All Sunday services begin at 10am unless otherwise stated. Children are very welcome to all services. There is a Children's Corner with books and toys and most services include a special slot for children.
Once a month we share a service with the Methodist Church in Tollerton. We alternate the venue each month. Please see the notice on the church door, pew slip or in the Tollerton Village Newsletter for the current month's services.
The general programme:
1st Sunday in the month: Informal Worship – a short informal service lasting around 45 minutes.
2nd Sunday in the month: Holy Communion.
3rd Sunday in the month: All Age Worship. Once again the focus is for children, but there is content for all ages.
4th Sunday in the month: Holy Communion
5th Sunday in the month: Holy Communion
Mothers' Day in March, Harvest in September, Remembrance Day in November and Christingle in December are all attended by Tollerton's uniformed groups and are Parade Services.
Other services.
If you wish to arrange a Wedding, Christening or Funeral please contact the Rector through our contacts page.