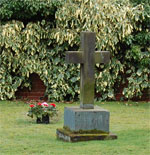 MAINTENANCE AND CARE OF GRAVES AND MEMORIAL STONES:
In order to maintain the appearance, tranquility and safety of the churchyard the following rules are now applied and invoked retrospectively.
1.  New graves that remain mounded after 2 years from internment shall be levelled. Graves that sink or have sunk shall be top dressed to produce a level surface to facilitate mowing. A grave may be marked by a headstone, but the addition of a kerbed boundary or other raised items is not permitted.
2.  The following items are not permitted on or adjacent to graves or memorial stones:
Lights,
Decorations,
Candle holders,
Loose vases or pots,
Artificial/ Plastic flowers,
Plastic wrapping,
Canes and string (It may be possible to add an additional vase to a grave if it is sunk level with the surface and made of metal).
3.  It is, of course permitted for wreaths and flowers to be placed upon graves after internment. The removal of paper and plastic wrapping would be appreciated.
4.  The Parochial Church Council reserve the right to remove any dead flowers or foliage and hazardous material.
For clarification contact the Church Wardens or the Rector.